Learn All About Mercedes-Benz DISTRONIC PLUS®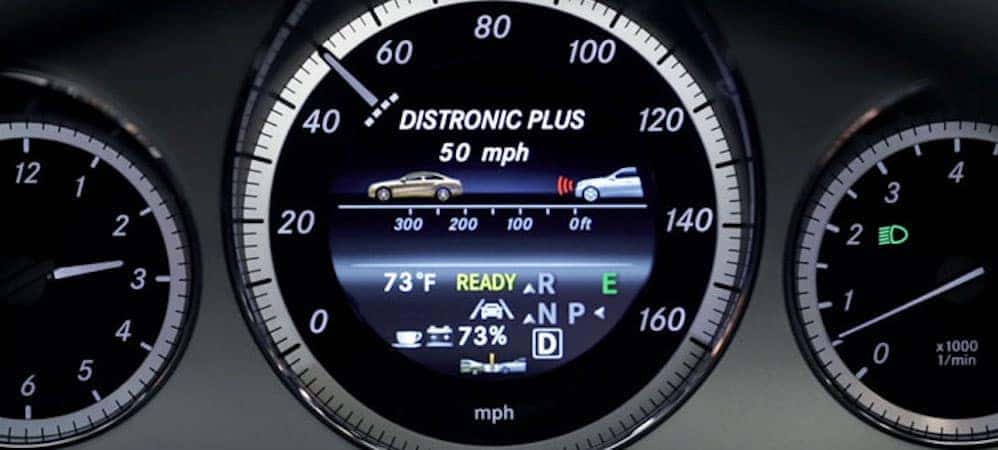 Mercedes-Benz models are known to be packed with high-end technology features, and DISTRONIC PLUS® is one of them. While this feature is extremely helpful, many Cook County drivers looking to finance a new Mercedes-Benz model may not know what it does exactly. Learn about Mercedes-Benz DISTRONIC PLUS® below.
What is DISTRONIC PLUS®?
Mercedes-Benz DISTRONIC PLUS® is available on a wide range of new Mercedes-Benz vehicles, including the Mercedes-Benz C-Class, E-Class, and GLC. This feature is an advanced adaptive cruise control system that can automatically brake, accelerate, and keep a safe distance from the vehicle in front of you. DISTRONIC PLUS® with Steering Assist also helps drivers stay within their lane.
How Does DISTRONIC PLUS® Work?
DISTRONIC PLUS® functions at any speed between 20 mph and 125 mph, and can use up to 40% of your Mercedes-Benz model's braking force to slow down or come to a complete stop in traffic. However, if more than 40% of the braking force is needed, your vehicle will send you a visual and audible warning letting you know that you need to apply more braking force. No vehicle in front of you? If you are lucky enough to avoid Chicago traffic altogether, DISTRONIC PLUS® will operate in the same manner as the regular Mercedes-Benz cruise control system.
How to Activate DISTRONIC PLUS®
DISTRONIC PLUS® turns on automatically, so you don't need to turn it on. However, you can make adjustments to the feature. To do this, you must first set your cruise control by accelerating to 20 mph or more. Then, use the lever on the left side of your steering column, and move the lever up or down to the point of resistance. After this is done, you can increase and decrease your speed the same way. Also, you can rotate the end of the cruise control lever to adjust the distance between your vehicle and the vehicle in front of you.
Learn More About DISTRONIC PLUS® at Mercedes-Benz of Chicago!
Our auto experts are happy to help! Learn more about Mercedes-Benz DISTRONIC PLUS®, as well as other exclusive technology like PRESAFE® and ATTENTION ASSIST®, today by contacting the team at Mercedes-Benz of Chicago today.