Get Preventive Maintenance in Chicago, IL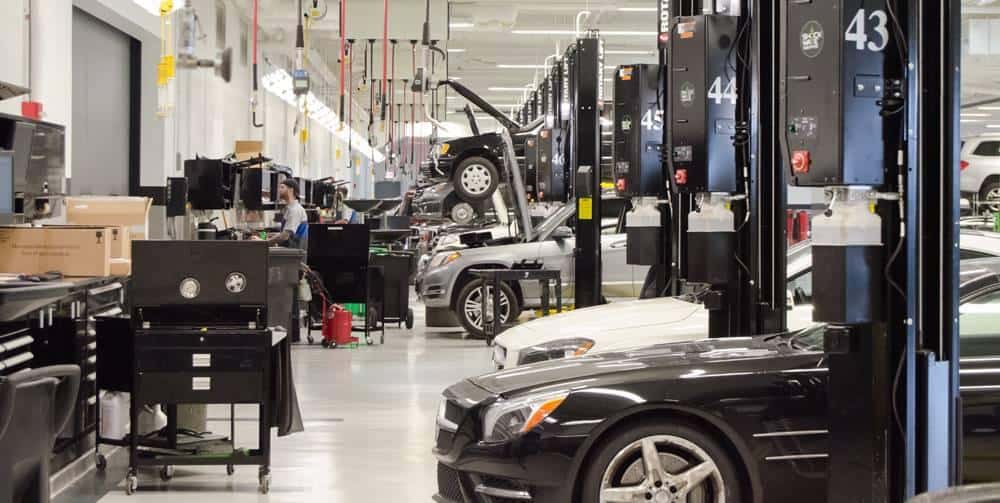 Keeping your new Mercedes-Benz vehicle in good health for years to come begins with preventive car maintenance. Our state-of-the-art Mercedes service center has the certified technicians and equipment necessary to preserve the power and capability you expect from your luxury vehicle.
The goal of preventive maintenance: Your luxury vehicle was no small investment, and staying up to date on auto service could help with:

Fuel-efficiency
Safety
Longevity
Ability to combat winter weather

Why preventive maintenance is necessary: Even the world's highest quality cars require routine care; we used genuine Mercedes-Benz parts to keep our Chicago customers' vehicles in good health.
Oil & Oil Filter Service
Synthetic oil moves engine impurities to the filter, so your vehicle can perform at its best. So, how often should you change your oil? If you drive a Mercedes-Benz, every 10,000 miles or 1 year is generally a safe bet; however, it's a smart idea to consult a service technician or your owner's manual for more information on Synthetic Motor Oil Replacement.*
Tire Rotation
Usually, tire rotation is recommended twice a year, because it prevents uneven tire tread wear and keeps your vehicle's suspension in good shape. The technicians at our tire center near Evanston know how to rotate tires quickly and even offer Express Service to suit your busy schedule. They'll also keep an eye out for warning signs that it's time for tire replacement. We maintain an inventory of tires from authorized brands like Dunlop, Pirelli, and Michelin.
Winter Vehicle Prep
Chicago and Oak Park's winters can cause damage to any vehicle; every year, we can help you take the following steps to properly winterize your Mercedes-Benz:
We'll Keep You Up to Speed with Preventive Maintenance!
With Mercedes-Benz of Chicago's service experts in your corner, taking precautions to protect your vehicle is easy and effective. Schedule auto service online and don't miss out on our Mercedes-Benz service discount coupons—available for a limited time only!