What is Mercedes-Benz Car-to-X Communication?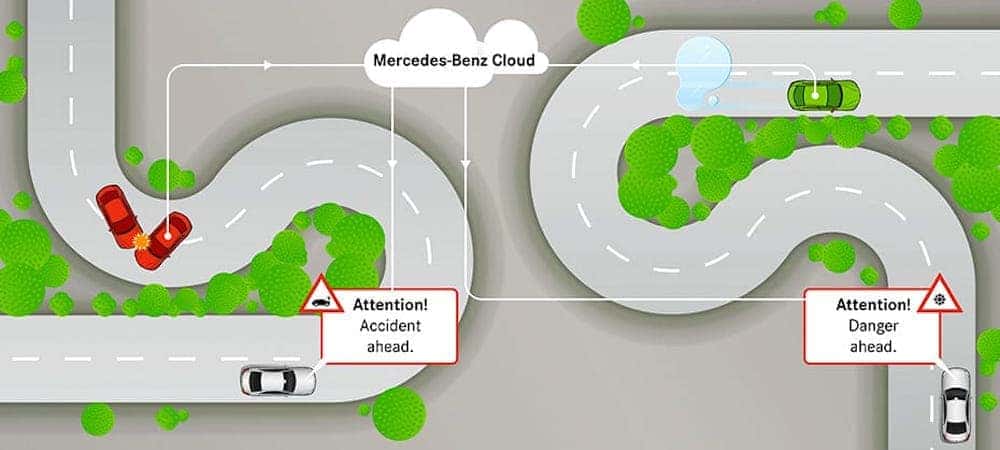 With the Mercedes-Benz Car-to-X Communication feature, Cook County drivers can get information on the road ahead before they even see it. This car-to-car communication feature allows your equipped Mercedes-Benz vehicle to communicate with other vehicles, as well as traffic structures, about potential road hazards or issues. Look over our Car-to-X Communication guide to find out more about this system's functions and features.
How Does Car-to-X Communication Work?
This autonomous car-to-car communication system provides important information to you, as well as other Chicagoland Mercedes-Benz drivers. The Car-to-X Communication feature works by:
Taking in hazard warnings and comparing them to your vehicle's location.
Using radios to trade information regarding traffic infrastructure, like traffic lights.
Providing other Cook County drivers warnings and alerts.
Delivering audible and visual alerts when approaching a hazard; this allows the driver to change course or adjust driving patterns.
Types of Alerts Provided By Car-to-X Communication
Thanks to the quick and accurate alerts of this car-to-car communication system, Mercedes-Benz drivers avoid accidents or delays. Car-to-X Communication delivers alerts for:
Warnings of wrong-way drivers
Alerts to accidents
Notifications for areas of heavy traffic congestion
Notifications of emergency vehicles approaching and from which direction
Benefits of a Car-to-Car Communication System
Mercedes-Benz Car-to-X Communication provides drivers with a clear picture of the happenings on Cook County roadways, allowing them to make educated decisions on their routes. Armed with this information, drivers can:
Be alerted to potential causes of accidents.
Save valuable time that could be lost in traffic jams.
Be made aware of approaching emergency vehicles.
Improve area traffic flow by avoiding accidents.
In addition to benefiting their own drivers, Mercedes-Benz is working to create a more connected roadway system by partnering with other car manufacturers. They're also working to integrate the customer's iPhone® with their vehicle through their Drive Kit Plus release.
Enjoy the Most Advanced Technology at Mercedes-Benz of Chicago
Car-to-X Communication is just the beginning of the technology features car buyers can find on the latest Mercedes-Benz models. From the MBUX voice-activated in-car assistant to safety features like ATTENTION ASSIST®, Mercedes-Benz continues to assert itself as a technological leader in the automotive industry. Schedule a visit to Mercedes-Benz of Chicago to see these cutting-edge features in action and learn more about other Mercedes-Benz technologies.