What is Mercedes-Benz ATTENTION ASSIST®?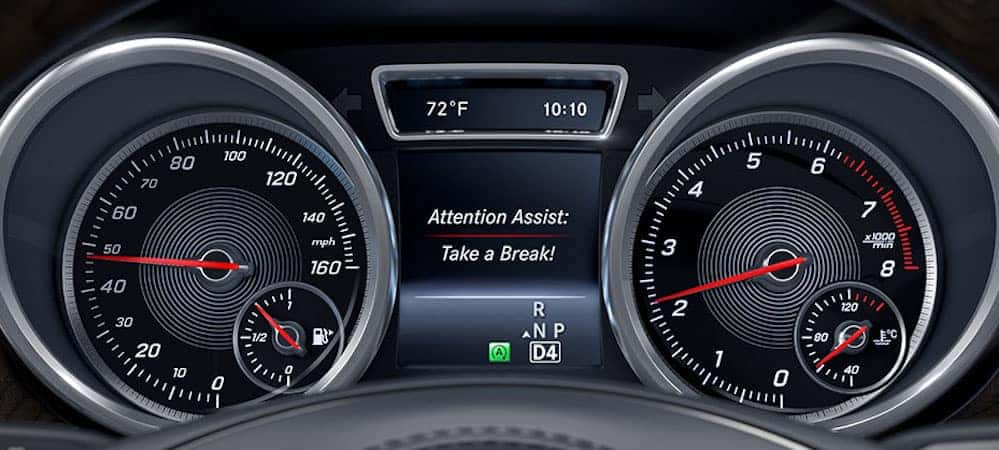 The Mercedes-Benz ATTENTION ASSIST® technology found in many new Mercedes-Benz vehicles can provide added peace of mind for your Chicago commute. Discover how the ATTENTION ASSIST® "take a break" feature works below, then get in touch with Mercedes-Benz of Chicago to experience how these Mercedes-Benz technologies function on Cook County roads.
How Does Mercedes-Benz ATTENTION ASSIST® Work?
With the debut of the ATTENTION ASSIST® system, Mercedes-Benz has continued to raise the standard with another industry-first. Pairing an innovative sensor and precise algorithm, this system can tell if drivers are getting too drowsy to be on the roads. Here's a quick overview of how the system works:
It only takes a couple of minutes of driving for the system to assess your individual driving style. ATTENTION ASSIST® does so by evaluating your driving with over 70 different parameters.
As you continue navigating Cook County, the system looks for specific steering corrections which are indicative of the beginning signs of driver fatigue.
The intelligent ATTENTION ASSIST® system then considers and accounts for several external factors, including crosswinds and road conditions, as well as how you're managing controls, buttons, and switches in the vehicle.
After its assessment, if the system concludes that you're experiencing drowsiness or driver fatigue, it will sound an alert and suggest stopping for a break.
Which Mercedes-Benz Vehicles Offer ATTENTION ASSIST®?
Chicagoland shoppers will find the ATTENTION ASSIST® system is available on most new Mercedes-Benz models, in addition to other active safety features like Blind Spot Assist and Lane Keeping Assist. Here are the models that currently offer ATTENTION ASSIST®:
If you need assistance in selecting a Mercedes-Benz that offers ATTENTION ASSIST®, the knowledgeable associates at Mercedes-Benz of Chicago can help. We can walk you through our inventory of new, pre-owned, and certified pre-owned Mercedes-Benz models to find an option that meets your needs. Pay a visit to our Chicago dealership to get the process started.
Learn More About Mercedes-Benz Safety at Mercedes-Benz of Chicago
Explore other Mercedes-Benz safety features like PRESAFE® and Car-to-X Communication, or learn about other advanced technology offerings like mbrace® and KEYLESS GO® vs. KEYLESS START® at Mercedes-Benz of Chicago!