How to Use Apple CarPlay® in Your Mercedes-Benz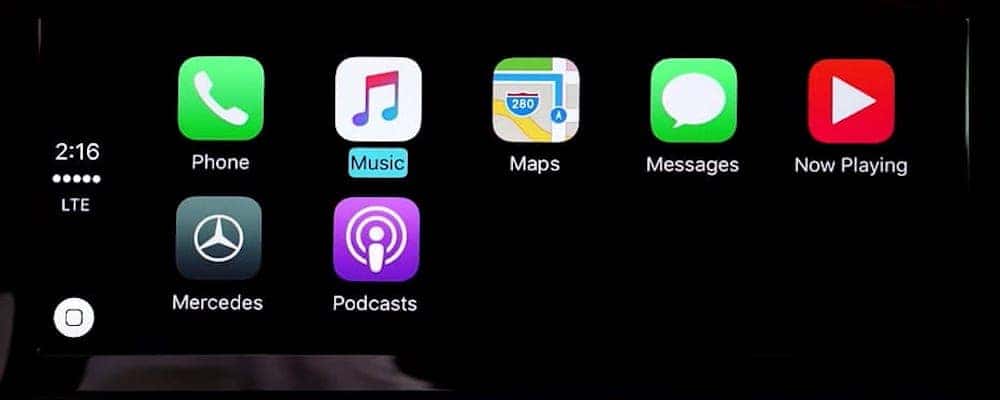 With Apple CarPlay®, you can integrate some of your iPhone's main functions with the Mercedes-Benz multimedia system. Standard on certain Mercedes-Benz models, including the AMG® GT and E-Class, Apple CarPlay® allows you to make phone calls from your contacts, send text messages using voice control, use your phone's navigation, and listen to music. Learn how to use Apple CarPlay® in your Mercedes-Benz below!
How to Set Up Apple CarPlay® in Your Mercedes-Benz
Setting up Apple CarPlay® is fast and easy. Follow the steps below to connect your iPhone to your Mercedes-Benz and begin enjoying the integrated features:
First, using a USB cord, plug your iPhone into the USB port for the smartphone integration system.
When you're connecting your iPhone to your car for the first time, choose the "Start Automatically" option. As the selection suggests, this will allow your phone to automatically connect to Apple CarPlay® in the future when plugged in, making it faster and easier for you. Note: If a friend or family member is connecting their phone, and you don't wish to have their phone automatically connect to your vehicle in the future, you can select the "Select Manually" option.
Once your phone is connected, you're able to control your phone's main functions using the COMAND® controller, the buttons on the dash, or the Siri® Voice Operating Control System.
While you can use Apple CarPlay® for many tasks, there are certain tasks, such as seat adjustment and ambient lighting, that need to be done using the COMAND® system. To exit Apple CarPlay® and perform these functions, simply press the Mercedes-Benz icon on the screen.
To return to Apple CarPlay®, manually select your phone from the device list.
When you're done using Apple CarPlay®, simply unplug your phone from the USB port.
Get More Apple CarPlay® Help at Mercedes-Benz of Chicago
Contact us for more information about Mercedes-Benz Apple CarPlay® or other Mercedes-Benz features, such as ATTENTION ASSIST®, Mercedes me app, and mbrace®. Having trouble integrating Apple CarPlay®? Mercedes-Benz of Chicago can help. Visit our Cook County dealership and one of our team members can set it up for you!