Which Mercedes-Benz Car Has the Fastest 0-60 MPH Time?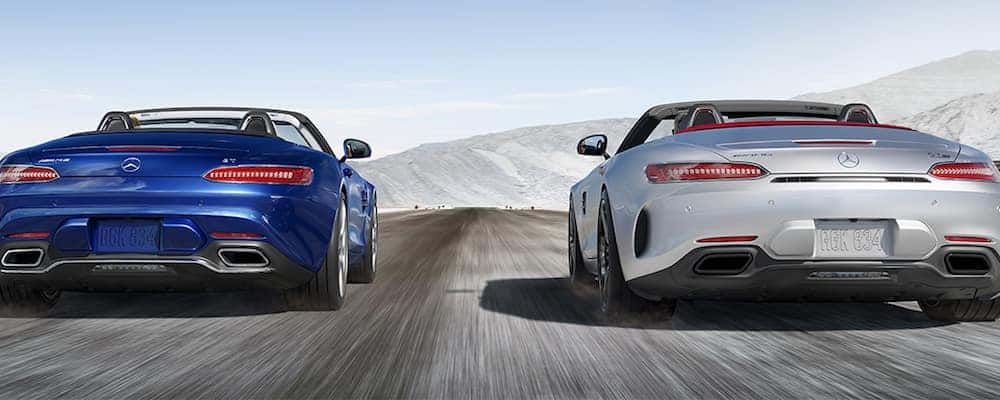 Mercedes-Benz is a brand rooted in motorsports, so it's not surprising that narrowing down the fastest Mercedes-Benz car is a feat. While we can't pick just one, we can share the top five fastest Mercedes-Benz cars, as well as the fastest Mercedes-Benz vehicles on the market today, from the base models to the performance-ready AMG® lineup.
What are the Top 5 Fastest Mercedes-Benz Cars?
With vehicles like the AMG® GT and the Mercedes-Benz Roadster, you'll find plenty of options for potent performance in the Mercedes-Benz lineup. Which are the most powerful of all the models? Here are the top 5 fastest Mercedes-Benz models:
2014 Mercedes-AMG® SLS Black Series
2009 Mercedes SLR Stirling Moss
2015 Mercedes-AMG® E 63 S
2017 Mercedes-AMG® CLS 63 S 4MATIC®
2007 Mercedes SLR McLaren 722
What are the Fastest 2019 Mercedes-Benz 0-60 Times?
If you're looking for a new Mercedes-Benz model that packs a punch under the hood, there are plenty of options that can go from 0-60 in under 3.9 seconds:
Sports Cars
Mercedes-AMG® SL 65 0-60 Time: 3.9 seconds
Mercedes-AMG® GT C 0-60 Time: 3.6 seconds
Cars & SUVs
Mercedes-AMG® C 63 S 0-60 Time: 3.8 seconds
Mercedes-AMG® E 63 S 0-60 Time: 3.3 seconds
Mercedes-AMG® GLC 63 0-60 Time: 3.8 seconds
Reasons to Choose an AMG® Beyond Top Speed
When you choose an AMG® Mercedes-Benz, you're choosing a model made to deliver smooth handling, sharp turn ratios, and strong overall performance. Boasting hand-crafted engines built with the "one man, one engine" philosophy, each engine is signed by its master builder. Performance features are paired with a sporty cabin, so you can get the racing feel, even if you're just commuting to your office downtown.
What are the Fastest Mercedes-Benz Entry-Level Trims?
The Mercedes-Benz AMG® performance models may boast the strongest times, but even entry-level models can hit some impressive numbers. Take a look at the new Mercedes-Benz 0-60 mph times for the following base configurations:
Mercedes-Benz CLA 250 0-60 Time: 6.9 seconds
Mercedes-Benz C 300 0-60 Time: 5.7 seconds
Mercedes-Benz E 300 0-60 Time: 6.2 seconds
Mercedes-Benz GLA 250 0-60 Time: 7.2 seconds
Mercedes-Benz GLC 300 0-60 Time: 6.3 seconds
Mercedes-Benz GLE 350 0-60 Time: 7.1 seconds
Find Your Speedy Model at Mercedes-Benz of Chicago
When it comes to the Mercedes-Benz 0-60 times, there are a variety of choices that can deliver the speed you're looking for. Schedule a test drive at Mercedes-Benz of Chicago today to find the model that gets your heart racing!