Employee Spotlight: Q & A with Michael Aldrich
When it comes time to schedule your service reservation here at Mercedes-Benz of Chicago, your Service Advisor and team of Service Coordinators are here to meet all your needs. However, chances are slim that you've had the opportunity to meet the hands that service your Mercedes-Benz vehicle.
We had the great opportunity to interview one recently! Michael Aldrich has been serving Mercedes-Benz Sprinter Vans for nearly 5 years now.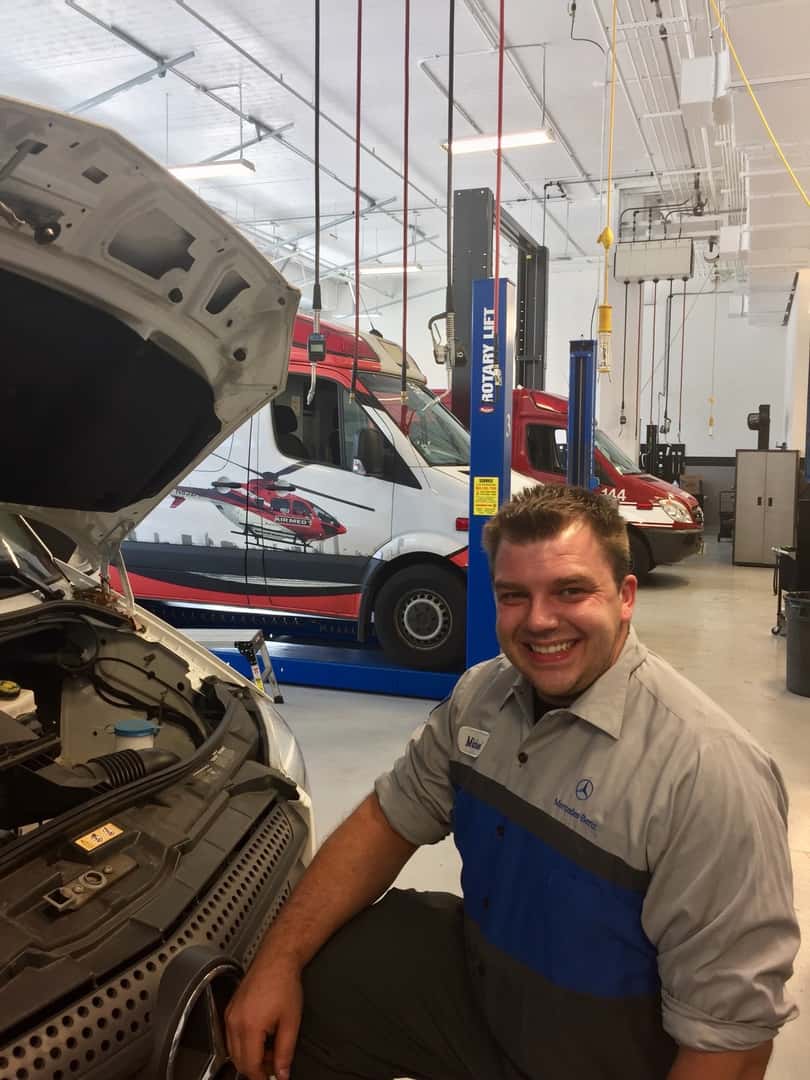 Michael Aldrich in his "office" servicing Mercedes-Benz Sprinter Vans
Mercedes-Benz of Chicago: What is your role and how long have you been with Mercedes-Benz of Chicago Service Center?
Michael Aldrich: I'm currently a Team Leader and have worked for Mercedes-Benz of Chicago for about 4 and a half years now.
MBC: How long have you been in the auto industry?
MA: I have been in this industry for almost 5 years now actually.
MBC: Can you tell us your career path from when you started?
MA: After graduating from the Universal Technical Institute, I was hired as a Porter for Fletcher Jones Audi to get my foot in the door. After two months, I then applied internally to Mercedes-Benz of Chicago (also a Fletcher Jones company) as an Apprentice Technician. Six months in as an Apprentice Tech, I became Line Technician and have held that same position for 3 and a half years. I eventually became Team Leader for the Sprinter department and have been here for about a year!
MBC: What's your favorite part about working for Fletcher Jones?
MA: My favorite part about working for Fletcher Jones is that it's a family owned business and you do honestly get treated like family here.
MBC: Why did you gravitate towards Mercedes-Benz specifically?
MA: Mercedes-Benz has always been a vehicle I loved seeing as a kid. Since I've started working on them my liking for them has grown. Their technology, safety and style continues to impress me each and every year.
MBC: What's the best part about living in Chicago?
MA: My top three favorite things about living in Chicago have got to be the food, the museums and the overabundance of things to do here!
MBC: What's your favorite restaurant spot in Chicago?
MA: My favorite restaurant in Chicago would have to be Chicago Pizza and Ovengrinders. Not your typical Chicago style pizza, but it's amazing!
MBC: Finally what keeps you motivated?
MA: My wife Brittany and our baby girl Hailey keep me motivated!
So the next time you service your Mercedes-Benz or Sprinter vehicle, keep Michael in mind. He's just one major part our family that separates us from our competitors. Experience the Fletcher Jones Difference. It's our motto.
Check out our current service specials here! For our specific Mercedes-Benz Sprinter Van service specials, click here!
Interested in joining our winning team? Apply here!